Mods /
Ranged Weapons
This mod adds additional ranged weapons to the game. It does this by more flexible ranged weapon code based on the original bow code of the game, which can be configured by item attributes.
I've also released the code on GitHub, so long-term, others can make their own ranged weapons based on it.
It currently adds five new weapons: a crossbow, an arquebus, a hand cannon, a wheellock pistol, and a blowpipe.
Blowpipe
An easier to construct and weaker version of the bow.
However, it is possible to poison the blowpipe darts. Poison can be crafted from fly agaric or lily of the valley. Creatures struck by poison will slowly lose health over time. Note that drifters and locusts are immune to poison. Seraphs are not, though.
You can also poison crossbow bolts and normal arrows.
Crossbow
Unlike bows, crossbows stay loaded without you having to hold down the right mouse button, but they take much longer to load. Once loaded, hold down the right mouse button again to aim and fire.
They're crafted from a crossbow lath (the bow part), a trigger, twine, and a plank, and available in four levels of quality: composite, iron, meteoric iron, and steel.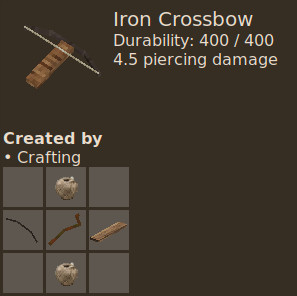 They require crossbow bolts as ammunition, which are crafted much in the same way as arrows, but don't need feathers.
Arquebus & Musket

Like crossbows, arquebuses stay loaded, but only for a while before the match burns out. The match will also burn out if the arquebus is submerged or rained on too much.
They're crafted from a steel barrel, a trigger, and a plank for the stock.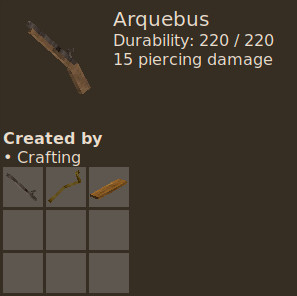 And yes, they do a lot of damage! They require ammunition made from blasting powder, twine, and bullets. Bullets are made by casting, and are available in copper, bismuth, lead, silver, and gold - soft, heavy metals.
Muskets are heavier versions of the arquebus, which do even more damage, but are so unwieldy that you can't move while loading or firing them.
Hand Cannon
Much like an arquebus, but available much earlier, hand cannons can be made from a variety of materials from bronze to steel, with damage output depending on the material.
You can also cast them!
Compatibility
This mod is currently not compatible with Bullseye.
The mod has support for poisoning animals from the following mods:
Cats
Creatures & Critters
Dire Wolves
Dangerous Waters
Farm Life
Feverstone's Horses
Fauna of the Stone Age: Pantherinae
Fox Taming
Lichen
More Animals
Ornamental Fish
Pack Animals: Add-on for Creatures & Critters
Primitive Survival
The Critters Pack
Wolf Taming
Let me know if you'd like to see any additional weapons or features!